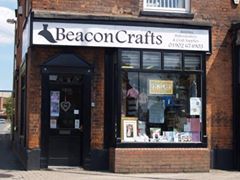 Welcome to Beacon Crafts online store.
You'll find our little shop in Sedgley, we've been trading there since 2009 and still love everything about it.
The shop itself has been a wool shop for many, many years. I used to do knitting orders for the previous owners in the early 90's, I would never have thought I'd be the owner 20 years later.
We pride ourselves on stocking quality yarns and accessories from leading suppliers such as Stylecraft, King Cole, Sirdar, James C Brett and Woolcraft at affordable prices.
We have a lovely on-site workshop above our shop where we teach all kinds of crafts from crochet to rag rugging!
**COVID UPDATE ** We are working as quickly as we can to upload all our products onto our page inbetween sorting out the shop and delivering products out to our customers. If you would like to place an order or have any enquiries at all, please contact us on 01902 674903, email
beaconcrafts@live.co.uk
or contact us through our facebook page. We should have all our products avaliable for you to view and purchase on our website in the next few weeks.
Thank you for taking the time to read all about us, please don't hesitate to get in touch if you need any advice, we are always more than happy to help.