Hello !

It's all go, go, go this time of year ! So many thing to do and so little time!
I'm up to my neck with orders and the usual Christmassy stuff and needed a tree skirt that worked up quite quickly and tadaah, I came up with this beauty with only 2 balls of yarn!!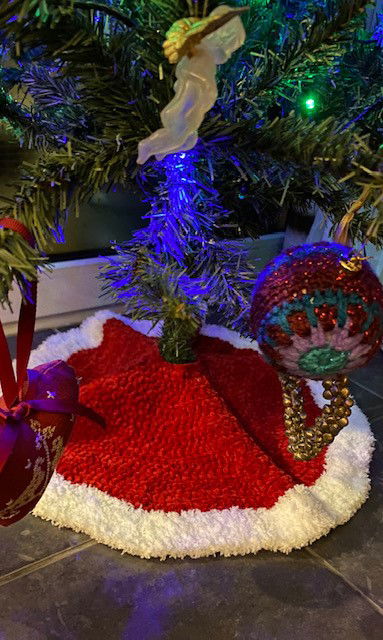 My skirt measures approx 60 cm - you may need an extra ball of flutterby if you want to make a larger skirt.
Here's how i made it -
You will need -
1 x ball James C Brett Flutterby in Red
1 x ball Super soft Cuddly Chunky in white
1 x 6mm crochet hook
12 x stitch markers
wool needle
optional - buttons
Starting with the red flutterby Chain 26
Row 1 - starting in 3rd chain from hook 1 tr in each st across (24 tr), turn,
Row 2 - ch2 (does not count as a st throughout) * 1 tr in first st, inc in next st- place st marker in 2nd increase st, rep from * to end , turn (36 tr)
Row 3 - ch2, *2tr, inc, move stitch marker up to 2nd increase st as last row, rep from * to end, turn (48 tr)
Row 4 - ch2, *3 tr, inc, mark 2nd increase stitch with marker, rep from * to end, turn (60 tr)
See what we are doing now?
Just continue increasing on each row and working that extra st in between your increases until your out of yarn ! I worked a total of 12 rows in red.
By marking each 2nd increase stitch you don't need to count, its easy to see where you need to increase (into each marked st) I like to make life easy!!
When I worked my last row of red I finished my last st with my new colour (white cuddly chunky) and continued to work 3 rows still increasing as before!
When your happy with your size, weave in your ends.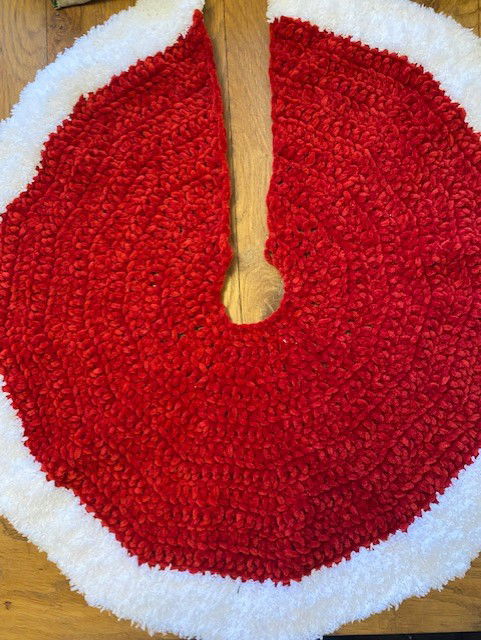 You may wish to add buttons to attach your skirt around the base of your tree - no need for button holes, as your stitches should be large enough to loop over the buttons.
I have left mine without, as mine over laps nicely at the base of my tree.
I hope you have fun dressing up your tree's, don't forget to tag us on social media if your share your work, I love to see!
Happy Hooking xxx