So it's been almost a whole year since I last blogged !
I have come to realise that running a successful business and blogging don't go hand in hand!
I have decided to keep on with the blogging best I can but mainly use it to pass on any free patterns to you all and this will be the place to find all the details of our very own FREE crochet along starting in the new year!
Thank the lord for social media where I can quickly post updates for you all and keep in touch.
Ohh ,so much has happened at Beacon Crafts HQ this past year, new pattern releases, decorating, new yarns, new customers ....... the list goes, far too much to fill you in with on one single blog !
I'll keep it as short as I can !
Firstly, I just want to say how happy am to have our very popular beginners crochet workshops back up and running. The response has been overwhelming and all our 2021 workshops have filled up super quick!
I have kept up with teaching virtually over the past year and its been wonderful, but I couldn't wait to get back to face to face workshops in our lovely bright pink new room !
We have plans for lots more workshops of all crafts for 2022 so keep your eyes peeled on our Facebook page for updates!
As you may know we now have our own pattern designs available to purchase as a PDF download on our Etsy and Ravelry stores, we don't have copy's readily available to buy in store as they tend to be more like mini books (that's the craft teacher in me) so the cost for us to print them out would be astronomical! We are happy to print out the odd few for anyone who is unable to download and print theirs for a small extra cost.
I won't bore you with all our new stuff over the last year, here's just a few....
Our 'Baby Love' pattern has proved to be a huge success, hundreds of patterns have sold all across the world, you can imagine my excitement now when I see them popping up on social media crochet pages.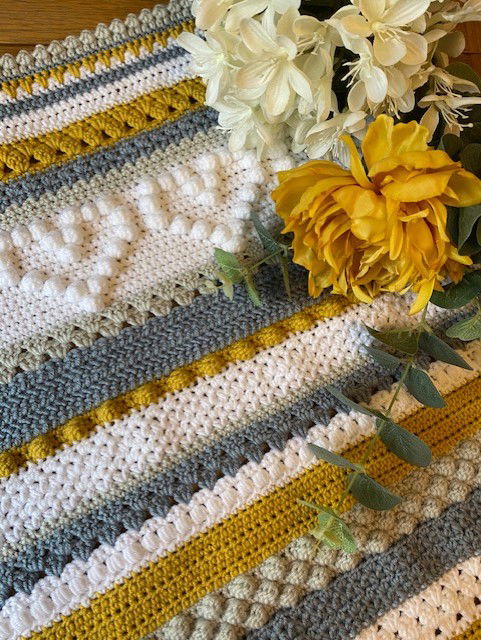 I used Stylecraft Yarns - Bambino when I designed this and I have to say it was a dream to crochet with!
Working on 'Baby Love', it re-kindled my love for the stitch sampler !
After teaching 1000's of lovely people to crochet over the past year (I still have to pinch myself) I decided to design a much larger blanket/throw/afghan (what ever you like to call them) , This is a great pattern for all crocheting abilities' and is a great pattern to move on to once you've mastered the basics. With over 16 different crochet stitches, online and video support for the trickier stitches - this is great for everyone!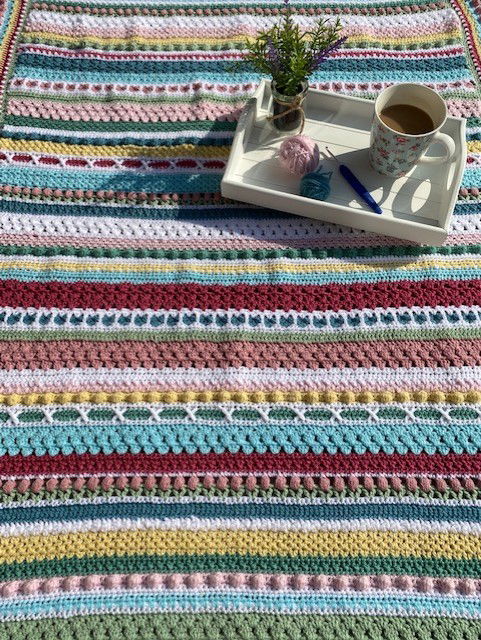 This uses 10 balls of Stylecraft Special DK and is a great stash buster too !
Finally I'll just share one of my favourite makes, my very own little Tommy !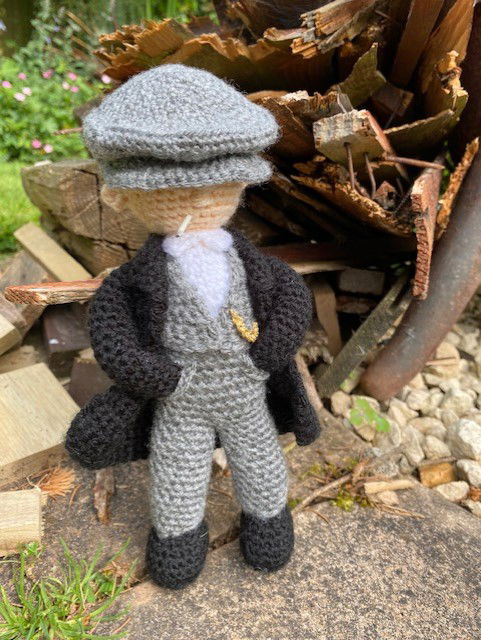 Obviously inspired by a very popular TV show! I just had to make myself a Tommy, after far too many orders, i just couldn't make anymore so decided to write my pattern up so you can make your own!
You can find all our kits on our Etsy shop and our patterns are available on both our Etsy and Ravelry stores,
Knit & crochet supplies crochet kits & by BeaconcraftsShop on Etsy
Ravelry: Beacon Crafts - patterns
I have learnt over the past 18 months that finding time to spend doing what you love is so very important, my Monday's and Wednesday's are still busy working days for me (although I do have the pleasure of working them in my Pj's ) they are filled with planning, designing and working on the boring old paperwork but I have more time to spend with my lovely family and friends which is very important for us all.
I am just so blessed to be lucky enough to love my job and live my dream !
My mind is as full of ideas that I can't wait to share with you all !
If you follow us on Facebook, I dare say you know we are full to the rafters of lovely new yarns, I just can't resist ! I won't add them on here as it will be the longest blog post ever !
I'm off now to get the dreaded paper work done and hopefully finish off this ....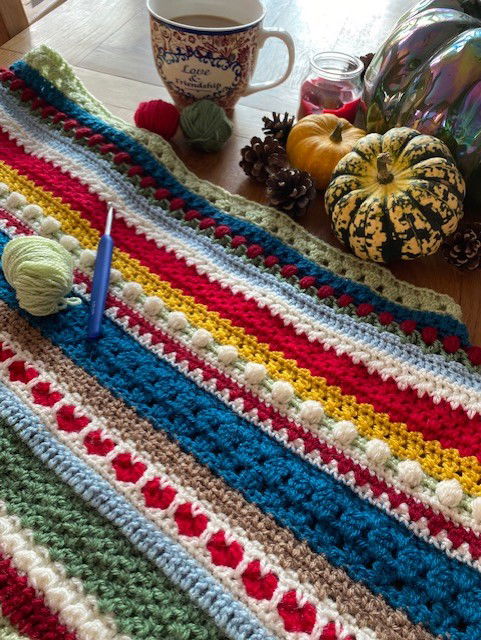 I've decided i need a Christmas blanket, so I'm working up Sweet Ties in Christmassy inspired colours, just the border to go !
Ohhhh before i go - Poppies !! After a day of hooking up poppies yesterday, I have realised I could do with a bit of help, if you fancy donating any knitted or crocheted poppies to us to sell we would be ever so grateful. All proceeds will be donated to the British Legion and we are hoping to have them on sale by the end of the week.
O don't expect to get chance to blog any time soon, although I will try .
Keep your eyes peeled for our free patterns and our 2022 FREE Crochet Along (I can't wait) , make sure you follow us on Facebook for more regular updates.
Stay safe my lovelies' and I'll do my best to catch up with you all soon xxx