UK Crochet terms
Hook suggested for DK weight - 4.5mm, Aran weight 5mm, Chunky weight 6mm
You need to start with a chain of multiples of 13 plus 3 - (I always just count up in chains of 13 until my chain is the length I need then add 3)
So lets have a practice - start with a chain of 29 (13 x 2 = 26 + 3 = 29)
ROW 1 -
Work 1 treble in the 4th chain from hook ( cpunts as 1 treble, 1 skipped stitch and 1 treble) work 1 treble in each of the next 4 chains, work 3 trebles in the next chain, work 1 treble in each of the next 5 chains, skip 2 chains, work 1 treble in each of the next 5 chains, 3 trebles in next chain , 1 treble in each of the next 5 chains, skip next chain and work 1 treble in last chain. Turn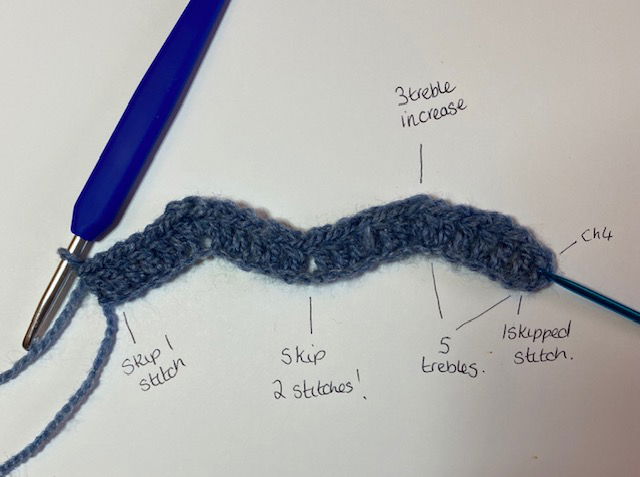 ROW 2 -
Chain 3 (counts as 1 treble) skip next st, *work 1 treble in each of the next 5 stitches, work 3 trebles in next stitch, work 1 treble in each of the next 5 stitches*, skip 2 stitches, repeat from * to * once more, skip 1 stitch and work your last treble into the last stitch.turn
To continue you just need to repeat row 2 until you have your desired length.
**To change colour I always like to finish off my last treble of any row with my new colour. To do this work your last treble as follows -
Yarn over (using current colour) insert into stitch, yarn over pull through, yarn over pull through 2 loops, then with new colour yarn over and pull through your last 2 loops. then turn your work and start your new row - voila !
This pattern is fantastic for blankets, cushions and scarves and more.